K&F Concept KF13.107 Waterproof Camera Backpack Best Price in Bangladesh 
This is truly a fantastic camera backpack, originally designed with input from professional photographers to create a bag that is a complete all-rounder. Exceptionally well made with its unique features focusing on space, comfort, practicality, and style makes it a class leader. This is not just a bag but your all-day companion.
When it comes to compartments, pouches, zips, dividers, straps and funky accessory clips the Pro-Shooter most definitely is not lacking in this area. The bag has an upper compartment that is accessible directly from the top. This can be configured to hold a DSLR body and 5 standard lenses. If all dividers are removed a spacious area is created to use for a jacket and other clothing. The Lower compartment is similar in size to the upper and can be configured in a similar way. If the divider between the upper and lower is removed a single large and open compartment is created ideal if the bag is to be used for hiking or a trail bag. Super versatile, Super functional.
The lower compartment includes a free Go-Bag that fits perfectly into it. This is a good size bag that can carry a DSLR with standard lens and accessories in the main section and then your wallet and phone in a separate zipped compartment. This bag can be carried by the top handle, slung over your shoulder or worn around your waist.
The straps on either side of the bag are for carrying up to 2 tripods or simply remove the straps if not needed. To secure your tripod even further if it's on the larger side, a pull-out hidden pouch on the rights side allows you to put your tripods feet in, to stop it sliding down. There are also water bottle pouches either side. These pouches have drawstrings so items can be secured within them.
The beautiful bright orange interior makes spotting and selecting gear in low light that much easier. The bag and strap padding are of the highest quality, this is evident in the shoulder straps, waist belt strap and back padding. Maximum comfort is also insured with the ability to adjust the bag via 3 settings, so no matter your size, the bag will sit comfortably on you back and with the well-padded waist straps the weight of the bag is carried on your hips. This is ideal when hiking or for those really long days on your feet. As the straps are so configurable, and this model includes waist straps, you can load a lot of weight into the bag without it feeling heavy.
Made from the latest and toughest Kouji 1200D Nylon and a Grade 5 waterproof resistance rating, as well as the crush-proof design this bag is sure to protect your precious gear. For added protection when caught hiking in a storm an included rain cover that fits snuggly around the bag is included for that additional protection.
Whether you are just starting out or already a working professional, the size and number of ways this bag can be configured makes it a long-term asset, adapting to your demands and requirements moving forward.
Large Capacity
The upper bin has a capacity of 5-6 pieces of clothing and the lower bin has a capacity of 5 mirrors.
Two Bag
A one-shoulder camera bag is included with the bag The shoulder bag can also be used as a waist bag.
Two Options
Use large bag when there are many equipment, and small bag when there are few equipment
17″ Computer Compartment
The upper warehouse is equipped with an ipad mezzanine to meet the needs of various equipment.
Comfortable Backrest
It is filled with high-quality pearl cotton, mesh structure, breathable and comfortable and reduces the burden on the back.
Three-Speed Adjustment
AC carrying system, set for different heights and body types.
Tripod Storage At The Bottom
Water Repellant And Teatesistant
A rain cover is provided with the package to protect your equipment.
Features
As a professional mountaineering camera bag, large capacity 33 liters, upper and lower compartments, mother-in-son bag, multi-layer, two-machine multi-lens, 17 laptop, 11″ IPAD, mobile phone, digital product charger and wire, dry and wet clothes separated
Use brand new 1200D Kouji nylon, waterproof grade 5, with rain cover
Two upper and lower EVA compression moulded shells on the front frame are strong, durable and impact-resistant, effectively ensuring cushioning against camera impact
The external suspension system can carry a 60cm tripod, a drone, a tent, and the external strap can be equipped with trekking poles
The carrying system can support 3 levels of height adjustment (L, M, S), suitable for people of different body shapes, effectively reducing the weight-bearing feeling, ventilation, and heat dissipation. The straps can be adjusted. The waist pad can effectively tighten the contact with the body and protect the waist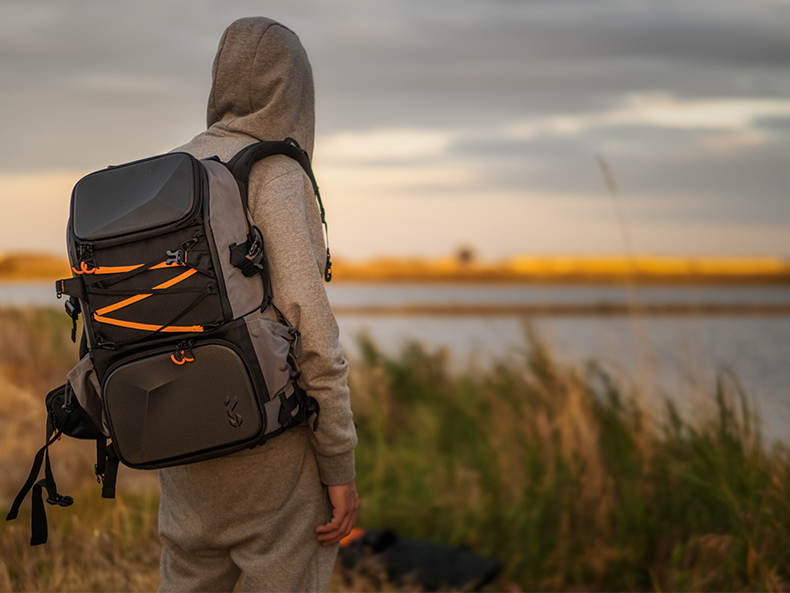 PRODUCT SIZE
Dimensions LxWxH (cm):34*22*54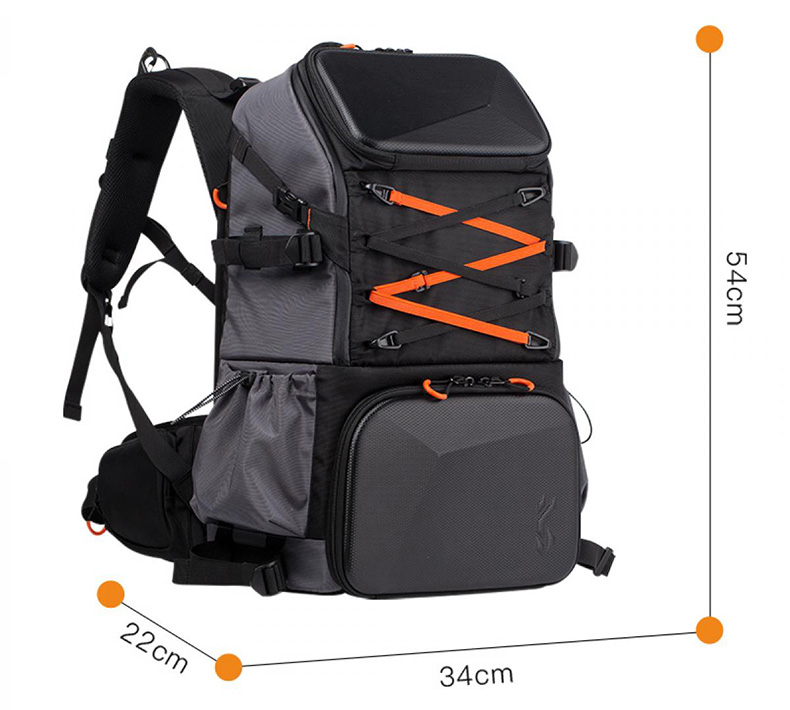 LARGE CAPACITY
The upper bin has a capacity of 5-6 pieces of clothing and the lower bin has a capacity of 5 mirrors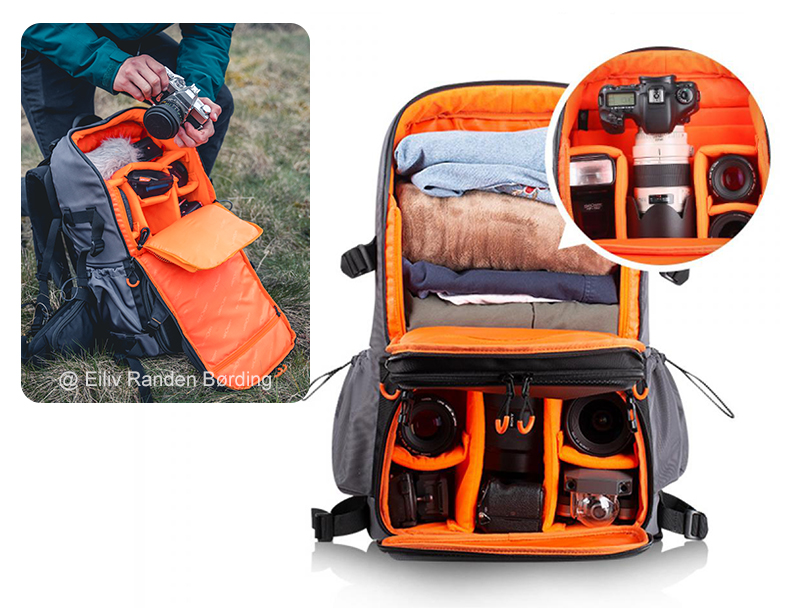 TWO BAG
A one-shoulder camera bag is included with the bag The shoulder bag can also be used as a waist bag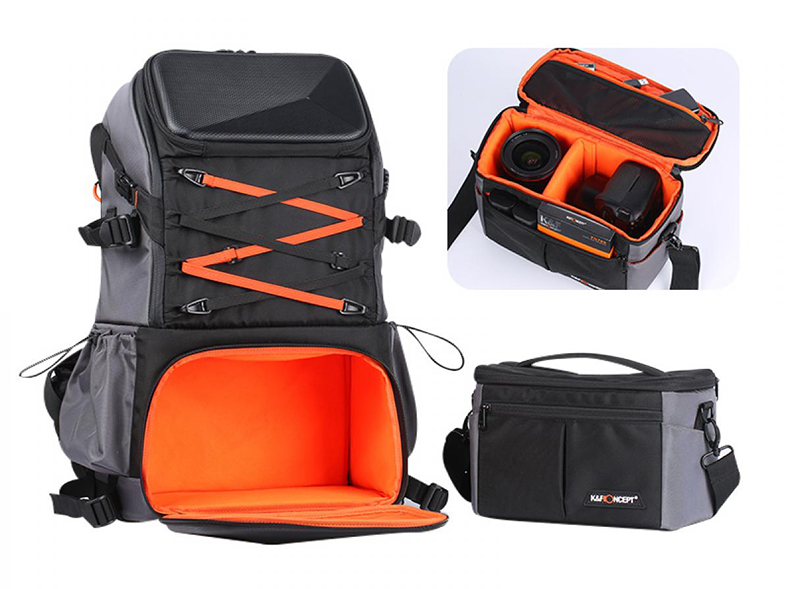 TWO OPTIONS
Use large bag when there are many equipment, and small bag when there are few equipment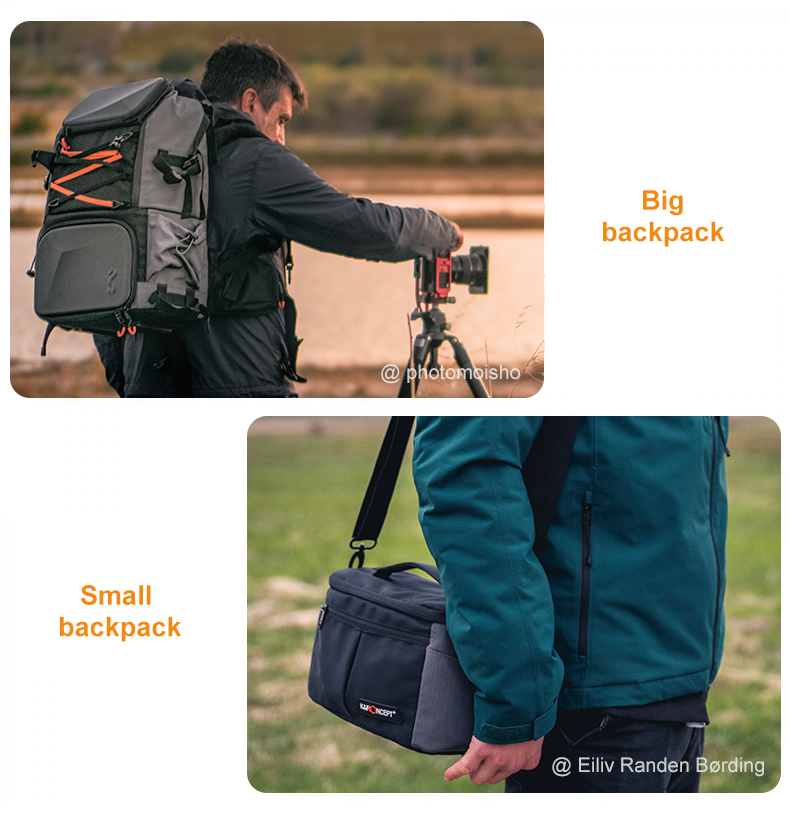 17-INCH COMPUTER COMPARTMENT
The upper warehouse is equipped with an ipad mezzanine to meet the needs of various equipment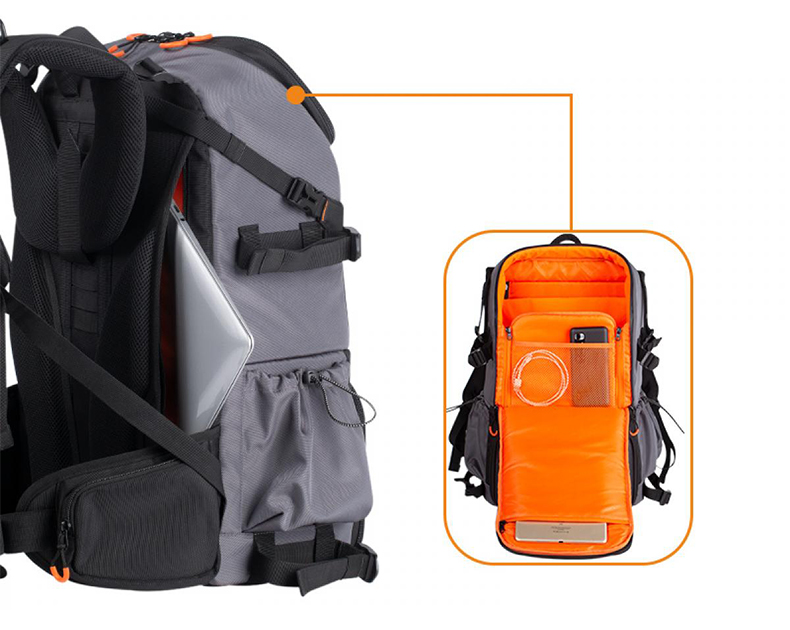 COMFORTABLE BACKREST
It is filled with high-quality pearl cotton, mesh structure, breathable and comfortable and reduces the burden on the back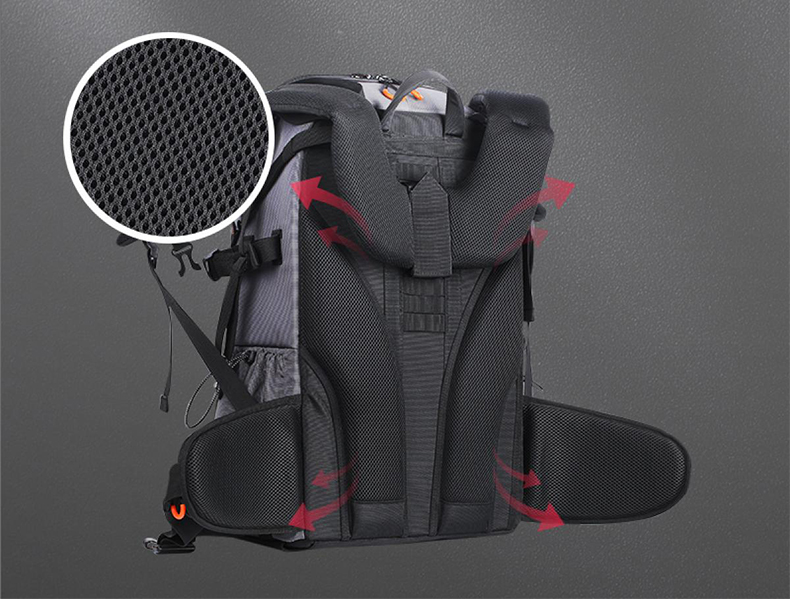 THREE-SPEED ADJUSTMENT
AC carrying system, set for different heights and body types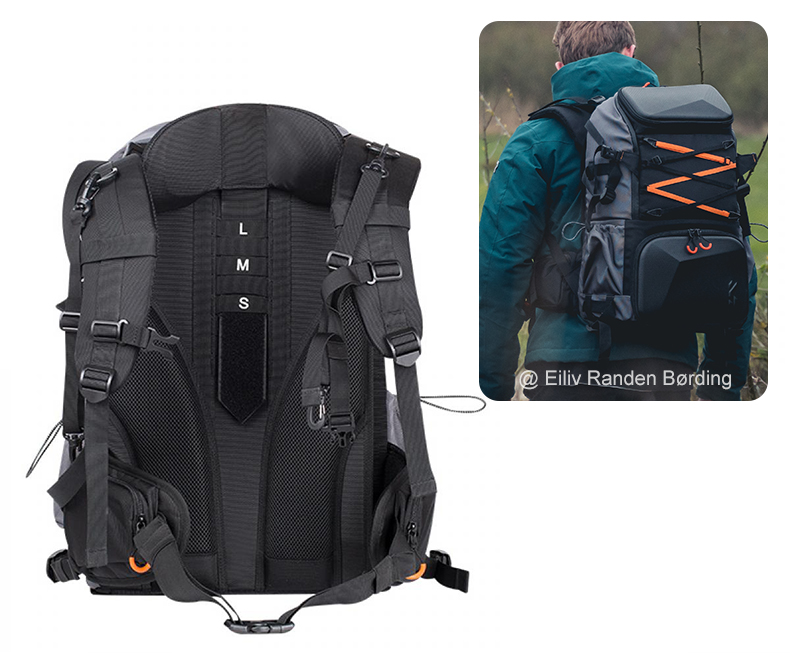 TRIPOD STORAGE AT THE BOTTOM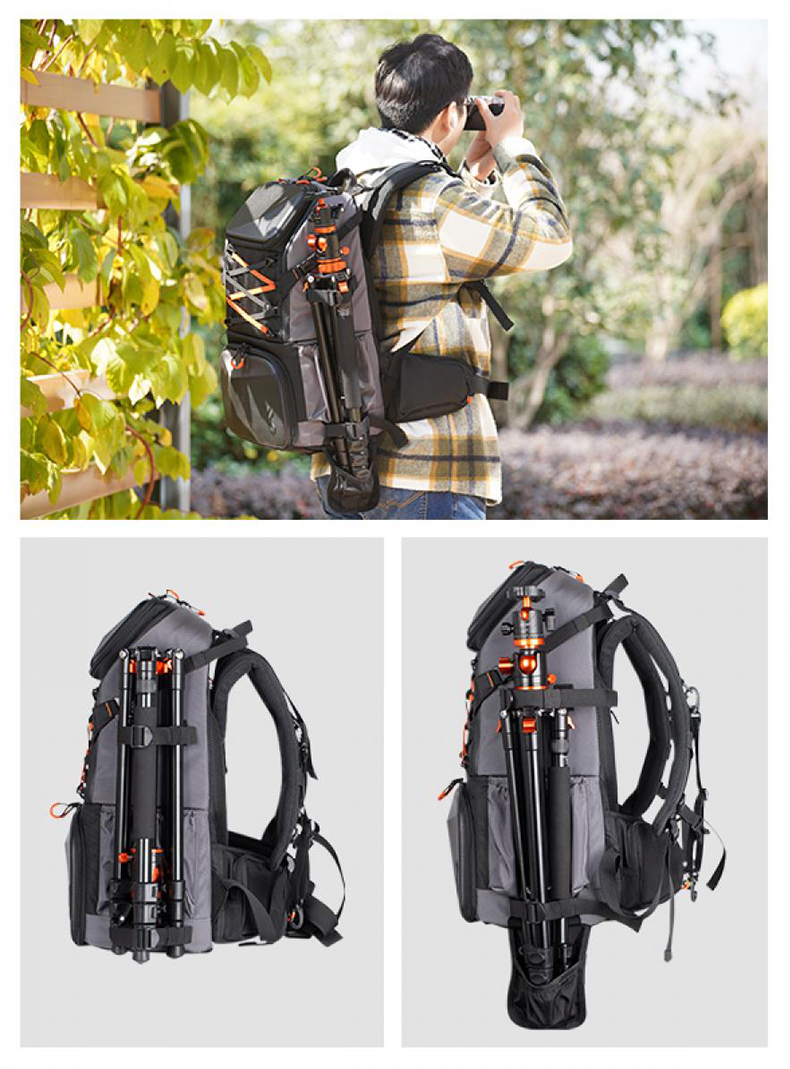 WATE REPELLENT AND TEATESISTANT
A rain cover is provided with the package to protect your equipmen