ANDBON AD-125S Professional Electronic Dry Cabinet Best Price in Bangladesh
The Electronic Dry Cabinet protects your lenses, photographic and optical equipment, mobile electronics, and other valuableaccessories from excessive moisture, dirt, and dust. The cabinet's fast-acting TE Cooling Wafer regulates the interior's relative humidity to help prevent fungus and corrosion that can damage your gear. While the glass door and rubber seal provide extra protection to keep out the elements. This cabinet achieves silent, dripless operation without a fan, compressor, or water tray. And there is electronic control for humidity settings, as well as an easy-to-view digital temperature readout.
| | | | |
| --- | --- | --- | --- |
| Product Name | DSLR Camera Storage Cabinet | Style | Humidity Control Dry Cabinet |
| Brand | | Colour | |
| Dehumidity Range | | Capacity | |
| Display Mode | | Power | |
| Inner Size | | Outer Size | |
| Packing Size | | Mode of Packing | |
This case for anti-oxidation,anti-deterioration,anti-corrossion,anti-fungus and anti-aging

LED Digital display humidity 25~60%RH

Suitable for cameras, lenses, memory cards, video cameras, telescopes, photographs, slides

CDs, DVDs, paintings, antiques, stamp collection, coin collection, medicine, tea, coffee, seeds, leather, etc

Material: 0.8-1.0 thick cold-rolled steel with 2 keys

Removable plastic shelf board and can movable up and down to your need position

Conrol way: NC  control and setting humidity by button, Tolrance at +/- 1%

Door frame with magnet rubber  
Dehumidification principle:

    Optimal Presservation Parameter Table:
   relative humidity                     RH%

                      Optimal preserved articles

       50%-60%

Books ,antiques,cultural relic,calligraphy and painting,coin,CD,

engineering drawing , Fax paper,printing paper

       40%-50%

lens,cameras,videocameras,telescope,microscope,disk,tape,photo,

negative,slide,fiche,audiotape,instrument,oilpainting,stamp,fur,

cigarette,tea,coffee,pharmaceutical.

       35%-40%

Measuring apparatus,electrical appliances,measuring implement,precision mould,semiconductor,Battery,circuit board,electron parts,wafer,IC

        25%-35%

Reagent sample,filter disc,standard sample,seed,pollen,dry pollen and spice,dessert,dry food,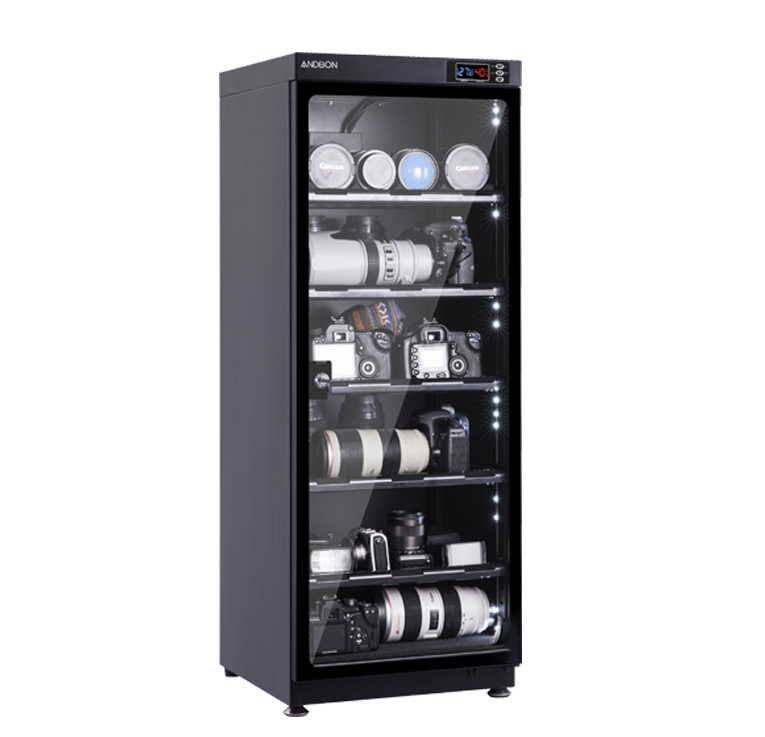 Overview:
Power consumption: Full open: 5W Average: 2.5W Voltage: 110 to 260V Frequency: 50 to 60Hz Rated voltage: 5V DC Rated current: ?1.3A Volume: 102L With digital or meter display Sizes: Contour: 380 x 390 x 775mm Interior: 375 x 385 x 735mm Dehumidification fast, 1-3 hours that take effect of low, and dehumidification wet RH25 %, 50%. Humidity accurately trouble-free. No compression, no fan, no noise, no heat effect quiet ark, RH uniformity 3. The value of DC input, power consumption is small, energy conservation and environmental protection, no leakage risk.
Features:
Volume:125L

Dimensions: Contour: 380 x 390 x 775mm

This product has adopted the latest cooling sets of principles in the world, clear the moisture fast, it will Force between 1-2 hours. It also can achieve the lowest moisture 25%-50%RH. Without the air cabinet to work, it can absorb moisture with the electrical, the controller will adjust automatically, constant damp accurate and has no obstacles.

The product has no moisture, is good at preventing the moth, preventing mildew, preventing rusting, preventing bad, preventing dust in storing function. It is a way to store things which has lowest cost

Auto Memory Last RH Setting.